Blended Mobility of Higher Education Students – 9th -23rd October 2022
A summary of the visit
The 15 day mobility visit to Coventry University, UK was undertaken between 9th October 2022 – 23rd October 2022. Fifteen students joined the mobility from University of Burgos, Spain; University of Klaipeda, Lithuania, and University of Ljubljana, Slovenia. The students stayed at the Cycle Works for the duration of the trip.
The visit aimed to further develop student knowledge and understanding of accessibility in cultural heritage and provide experience learning in an English classroom. During the visit the students learnt about UK guidance and best practice in accessibility and inclusion and received specialist input from organisations that focuses on supporting, advancing and championing accessibility.
The visit was hosted by the Centre for Arts, Memory and Communities (CAMC) part of the Institute of Creative Cultures at Coventry University (Parkside Coventry, UK). CAMC works to enrich and promote Coventry's museums, galleries and heritage sites as well as fostering community health, mobility and access to creative and cultural productions. The visit was co-ordinated by Louise Moody (Professor of Health Design and Human Factors) and supported by Kauser Husain and ACCESSCULT partner Culture Coventry manage three of Coventry's museums and visitor attractions:
Coventry Transport Museum, home to the world's largest collection of British road transport, including the two fastest cars in the world.
The award-winning Herbert Art Gallery & Museum, which celebrates the city's culture, history and arts.
The Lunt Roman Fort, a fully excavated and partially reconstructed turf and timber fort, including the only gyrus in the Roman Empire.
During the visit the students spent a day at the Herbert Art Gallery and Museum and a day at the Coventry Transport Museum.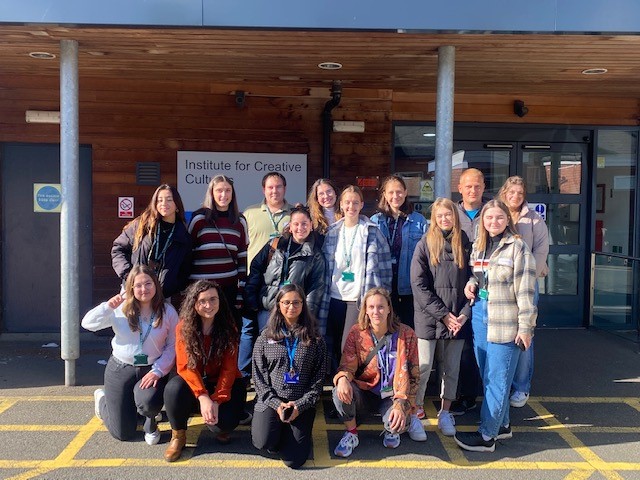 The activities were supported by a range of different Coventry University staff as well as staff members at Culture Coventry, and other cultural heritage organizations. The program was developed to expose the students to a range of different approaches to accessibility and inclusion and to different types of cultural heritage venues.
The teaching and learning methods employed involved hands-on learning activities, collaborative group-work, experiential learning as well as by lecture and direct instruction. Student reflection was encouraged, as well as the completion of assignments to test their application of the learnt knowledge and skills.
Summary of the activities and rationale for inclusion
Date
Activity
Purpose
9th
October
● Arrival in the UK
● Self-directed activity
● Settling into accommodation and area around it
10th
October
● Welcome and Introduction
● City and campus tour
● Understanding the purpose and schedule for the trip
● Familiarization with the campus and city
11th
October
● Introducing socially engaged photography
● To introduce accessibility, inclusion and exclusion
● To consider inclusion and accessibility from the perspective of people with lived experience of homelessness
● To undertake an activity to assess the urban environment in accessibility, inclusion and exclusion
12th
October
● Tour and activity at the Herbert Art Gallery and Museum
● To introduce a UK-based cultural heritage organization
● To introduce sensory learning and to apply this to the development of a sensory map of the gallery
13th
October
● Student presentations
● Medieval Coventry Heritage Walk
● Weave project
● For the students to share their findings from the socially engaged photograph activity (11th Oct)
● To share Coventry's medieval past with the students
● To consider inclusion from the perspective of people from Roma communities
14th
October
● The Lanchester Interactive archive
● To understand ways to increase the accessibility of an archive and exhibition to a wider community (on-site and through outreach)
15th – 16th October
● Visiting and assessing UK cultural heritage sites
● To explore UK towns and cities and cultural heritage
● To undertake an accessibility audit and recommend changes – presented back on 18th October
17th
October
● Tour and activity at the Coventry Transport Museum
● To understand adaptations for sensory needs
● To produce an audio description for the Blitz
● To take part in non-verbal theatre
18th
October
● Improving Inclusivity for learning
● Coventry Cathedral
● Imagineer Productions
● To learn methods to improves written document, presentation and web accessibility
● To visit Coventry Cathedral and consider adapting for access alongside maintaining heritage
● To learn about widening participation in theatre production
19th
October
● Communicate2U
● Accessible and Inclusive Housing and simulation
● To learn to reflect upon, and improve our communication with people with learning and communication difficulties
● To make use of simulation environments and equipment to understand and assess people's needs and make adaptations by using assistive design and technology.
20th
October
● Belgrade Theatre tour
● City of Culture
● To introduce access and inclusion within a theatre space and ways in which the Theatre are looking to improve and change programming and policy
● To learn about accessibility and inclusion considerations in the running and programming of the yearlong Coventry City of Culture
21st
October
● Celebration and reflection
● To present back final activity and reflect on their learning during the visit
● To celebrate new relationships and experiences in the UK
22nd – 23rd
October
● Travel to UK cities and home
● To reflect on learning as students make their final trips to cultural heritage sites in the UK
● To travel home
More pictures of the Student Mobility Visit
More info about the mobility visit in Facebook, Instagram or LinkedIn