Train the Trainers for mentors of an (online) adult training module – ACCESSCULT Erasmus +
Between 20th September and 24th September 2021, Culture Coventry from United Kingdom and the History Museum of Lithuania Minor from Lithuania hosted, together with Coventry University that provided the virtual environment, a virtual Learning, Teaching, Training Activity of the ACCESSCULT project: Train the trainers event for mentors of an (online) adult training module "Accessible Cultural Heritage to All".
The partners from all the countries (Spain, Italy, Lithuania, United Kingdom and Slovenia) participated in this virtual train the trainers event to train 10 teachers, educators and researchers who will be guiding the training in each of the 5 partner countries during the implementation of the (online) adult training module "Accessible Heritage to All" when a 1-month adult national training will be carried out in the partner countries. The aim of the module is to develop the knowledge and sensibility of current cultural workers and professionals toward a multidisciplinary, multisensorial and collaborative approach of work with cultural heritage in order to achieve better accessibility for people with disabilities and people from considered vulnerable groups.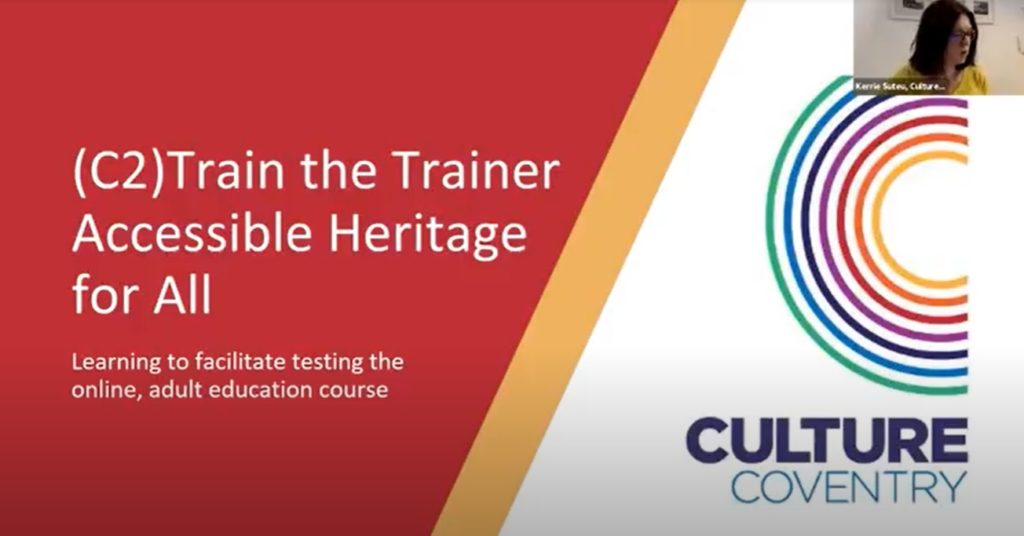 The event was opened by and developed during five days by the trainers: Kerrie Suteu and Robert Nolan, Digital Manager and Learning Officer respectevely in Culture Coventry and experts and professionals in the cultural heritage field. Train the trainers event was divided in three modules:
1. Pre-Visit Communication: mainly designed for Marketing Assistants who need to make printed and online communication accessible so that people can plan a museum visit. In this part, participants tested accessibility of some websites Website's Accessibility.
2. Support During Visits: mainly designed for Museum Assistants, Learning Assistants and Curators/Events Producers The tasks for this module were the design of a pictogram, a sensory backpack and a text panel.
3. Managing Access: mainly designed for Duty/Operations Managers who need to support staff in making museum visits accessible. It was focused on managing access and legislative guidance in order to ensure safe and accessible visits to the building as well as to enable participants to complete an access audit